Adaptor Bellow Flanges
Adaptor bellow flange are used to fit a bellow to a flange having different bolt configuration. These flanges are made of cast iron and are supplied with a spilt ring.

These are particularly used to fit a bellow with a non-glass equipment like Glass-lined Reactor etc. These are used in FBF, VBF, type PTFE bellows.

Adaptor bellow flanges are generally supplied undrilled. However, it specified these can be supplied drilled as per "Table E" Table F" and "ASA 150" standards.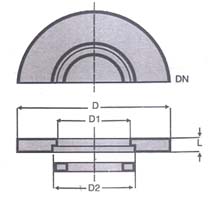 Undrilling flanges
| | | | | | |
| --- | --- | --- | --- | --- | --- |
| Cat.Ref. | DN | D | D1 | D2 | L |
| BFA1* | 25 | 115 | 43 | 51 | 7 |
| BFA1.5* | 40 | 150 | 58 | 66 | 7 |
| BFA2* | 50 | 165 | 70 | 81 | 7 |
| BFA3* | 80 | 200 | 101 | 112 | 7 |
| BFA4* | 100 | 220 | 134 | 148 | 8 |
| BFA6* | 150 | 285 | 186 | 196 | 8 |
| BFA9* | 225 | 395 | 260 | 2852 | 8 |
| BFA12 | 300 | 445 | 342 | 363 | 10 |
Drilled to Table E
| | | |
| --- | --- | --- |
| Cat.Ref. | pcd | n x do |
| BFA1/E | 82 | 4 x 12ø |
| BFA1.5/E | 98 | 4 x 12ø |
| BFA2/E | 114 | 4 x 16ø |
| BFA3/E | 146 | 4 x 16ø |
| BFA4/E | 178 | 8 x 16ø |
| BFA6/E | 235 | 8 x 19ø |
| BFA9/E | 324 | 12 x 19ø |
| BFA12/E | 406 | 12 x 23 |
Drilled to Table F
| | | |
| --- | --- | --- |
| Cat.Ref. | pcd | n x do |
| BFA1/F | 87 | 4 x 16ø |
| BFA1.5/F | 105 | 4 x 16ø |
| BFA2/F | 127 | 4 x 16ø |
| BFA3/F | 165 | 8 x 16ø |
| BFA4/F | 190 | 8 x 16ø |
| BFA6/F | 260 | 12 x 19ø |
| BFA9/F | 356 | 12 x 23ø |
| BFA12/F | 438 | 12 x 23 |
Drilled to ASA 150
| | | |
| --- | --- | --- |
| Cat.Ref. | pcd | n x do |
| BFA1/A | 79 | 4 x 16ø |
| BFA1.5/A | 98 | 4 x 16ø |
| BFA2/A | 121 | 4 x 19ø |
| BFA3/A | 152 | 4 x 19ø |
| BFA4/A | 190 | 8 x 19ø |
| BFA6/A | 241 | 8 x 19ø |
| BFA9/A | 298 | 8 x 19ø |
| BFA12/A | 432 | 12 x 23 |
©
Copyright
2017. Shiva Scientific Glass Pvt. Ltd. Delhi, India