Column Packing - Raschig Rings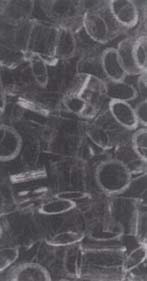 Raschig rings upto 25mm are of Neutral glass. 40mm and 50mm raschig rings are available only in Borosilicate glass
| | | | | |
| --- | --- | --- | --- | --- |
| Cat.Ref. | Size | Bulk Density Kg/Ltr | Specific Surface m' / m' | Glass |
| FC9 | 9x9 | 0.6 | 500 | Neutral |
| FC12 | 12x12 | 0.5 | 400 | Neutral |
| FC15* | 25x25 | 0.3 | 300 | Neutral |
| FC25* | 25x25 | 0.3 | 200 | Neutral |
| FCB40 | 40x40 | 0.3 | 160 | Borosilicate |
| FCB50 | 50x50 | 0.32 | 120 | Borosilicate |
Packings require for various pipe sections (Kgs.)
Pipe Section
Packing Size
Vol (L)
FC
FC12
FC15/td>
FC25
FCB40
FCB50
PS3/1000
5
3
3
2
-
-
-
PS4/1000
8
-
4
3
3
-
-
PS6/1000
18
-
9
7
7
-
-
PS9/1000
37
-
-
15
15
15
-
PS12/1000
66
-
-
17
30
25
-
PS16/1000
125
-
-
65
50
53
PS18/1000
165
-
-
-
90
65
70
PS24/1000
295
-
-
-
-
115
125
Notes of use of Column Packing
Due to their low bulk densities, Glass Raschig ring are particularly suitable for packing glass columns.
Generally, the ratio of Column diameter to packing diameter should not be less than 8:1
When using smaller packing size, a small layer of larger packing should be used on packing support, to prevent the smaller packing falling through.
In vacuum application and application involving high vapour velocities packing may be lifted and may damage to other parts. To prevent this a packing retainer (PTFE perforated plates) should be used above the packed section.
©
Copyright
2017. Shiva Scientific Glass Pvt. Ltd. Delhi, India