Electro Magnets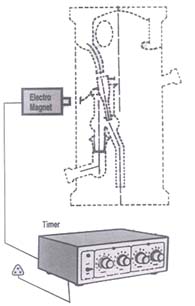 Electro-magnets are used to operate Magnetically operated Reflux dividers. When 'On' the magnet attracts the swinging funnel of the reflux divider so that distillate can be taken off.
Electro-magnets are to be mounted outside the glass column, just near to the reflux divider, with the help of adjustable fittings. These are designed to use with Timers to maintain correct ratio between 'Off' and 'On' timings of its activation.
Electro-magnets work on 220V DC power supply, for which a output socket is provided in the Timers.
| | |
| --- | --- |
| Cat.Ref. | Type |
| RPM* | Non-flameproof |
| RPF | Flameproof |
©
Copyright
2017. Shiva Scientific Glass Pvt. Ltd. Delhi, India