Fractional Distillation Equipment
This is a general purpose batch distillation unit to be operated under vacuum.
Heating bath heats and evaporates the content of the vessel. Vapours enter in to the packed column and get fractionated. Vapours of low boiling liquid enter into condenser, get condensed and collected into the twin receivers. From the final receiver distillate can be removed without breaking the vacuum.
The unit is complete with a spherical vessel, drain valve, heating bath, thermometer pocket, liquid inlet, packed column, a coil condenser, product cooler, and twin receivers.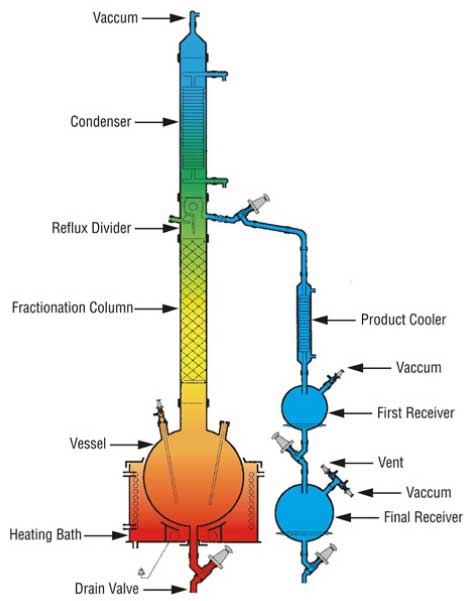 | | | | | | | | |
| --- | --- | --- | --- | --- | --- | --- | --- |
| Unit Cat.Ref. | Reactor capacity | Bath KW | Packed Column | Vapour Line | Condenser HTA M² | Cooler HTA M² | Receiver Size |
| BFDU20 | 20L | 4.5 | 80mm x 1m | 80DN | 0.35 | 0.1 | 2L,5L |
| BFDU50 | 50L | 6 | 100mm x 1m | 100DN | 0.5 | 0.2 | 5L,10L |
| BFDU100 | 100L | 9 | 150mm x 1m | 150DN | 1.5 | 0.35 | 10L,20L |
| BFDU200 | 200L | 12 | 150mm x 1m | 150DN | 1.5 | 0.35 | 10L,20L |
| BFDU300 | 300L | 15 | 225mm x 1m | 225DN | 2.5 | 0.5 | 20L,50L |
| BFDU500 | 500L | 18 | 225mm x 1m | 225DN | 2.5x2 | 0.5 | 50L,100L |
©
Copyright
2017. Shiva Scientific Glass Pvt. Ltd. Delhi, India