Jacketed Reactors
This is a general purpose reactor, to be operated at atmospheric pressure, or vacuum.
These vessels are provided with jacketed cylindrical vessel, cover, flush bottom valve, thermometer pocket, liquid inlet tube, Gas sparging tube, vent valve, anchor stirrer and mechanical seal.
Other type of stirrer can be provided in place of anchor stirrer on demand.
A battery of 4 PTFE baffles, removable type can be provided.
Condenser assembly as per requirement can be attached ( can be ordered separately ) on the vapour nozzle.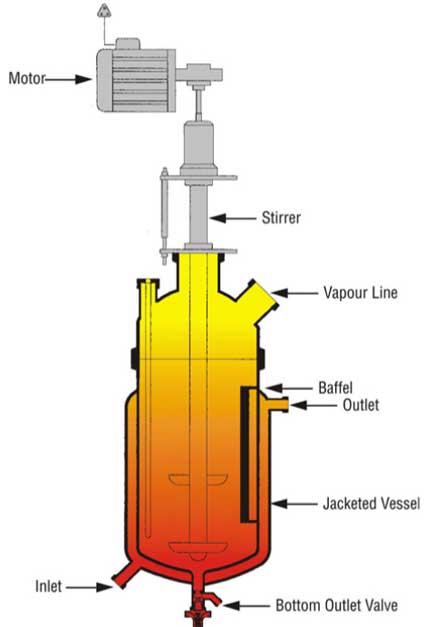 | | | | | |
| --- | --- | --- | --- | --- |
| Unit Cat.Ref. | Reactor capacity | DN | Jacket Capacity | Vapour Nozzle |
| JR5 | 5L | 150 | 3L | 40DN |
| JR10 | 10L | 225 | 6L | 40DN |
| JR25 | 25L | 300 | 10L | 50DN |
| JR50 | 50L | 400 | 20L | 80DN |
| JR100 | 100L | 450 | 40L | 80DN |