Liquid-Liquid Extraction Unit
This is a semi-batch unit designed for liquid-liquid extraction as a means of separation. Liquid to be extracted should be treated with solvent of different density.
A liquid mixture is poured in the extraction vessel. Solvent in the reactor is boiled and condensed, and passed to the extraction vessel, from where liquid is extracted and is mixed with the solvent and passes to the reboiler. The process is repeated until extraction is complete. Solution is again evaporated to obtain the extract.
The unit is complete with spherical vessel, heating bath, condenser, reflux divider, extraction vessel, and necessary pipelines and valves.
The unit can be supplied with solvent feed arrangement either from the top or from the bottom, or with both arrangements.
The unit is available in vessel size of 10, 20, 50, 100 Ltr.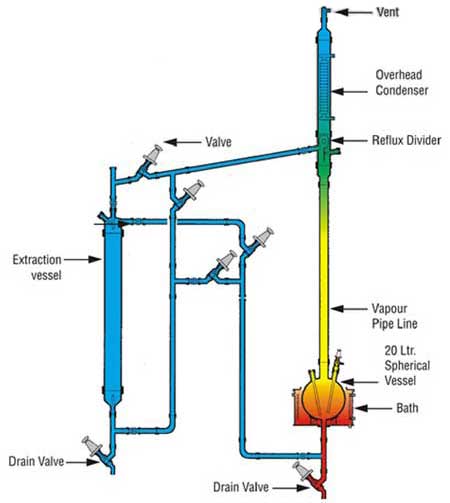 | | | | | | |
| --- | --- | --- | --- | --- | --- |
| Unit Cat. Ref | Reactor Capacity | Bath KW | Vapour Line | Extraction Vessel | Condenser HTA M² |
| LLU10 | 10 L | 3.0 | 40mmX1m | 10 L | 0.35 |
| LLU20 | 20 L | 4.5 | 50mmX1m | 20 L | 0.50 |
| LLU50 | 50 L | 6.0 | 80mmX1m | 50 L | 1.50 |
| LLU100 | 100 L | 9.0 | 100mmX1m | 100 L | 2.50 |