Reflux Dividers (Magnetically Operated)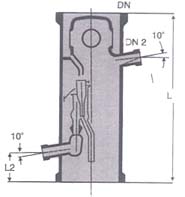 These reflux dividers are to be used with a electro-magnet and a timer. These have a swinging funnel mechanism which is operated magnetically from outside to remove the condensate or to return the reflux.
Through this correct control or reflux-ratio is possible. Funnel remains at 100% reflux position when magnet is inactive.
| | | | | | | | |
| --- | --- | --- | --- | --- | --- | --- | --- |
| Cat.Ref. | DN | DN1 | DN2 | L | L1 | Free Corss Section Cm2 | Max. Product L/hr |
| RHM3 | 80 | 25 | 25 | 375 | 75 | 20 | 90 |
| RHM4 | 100 | 25 | 25 | 400 | 75 | 50 | 1980 |
| RHM6 | 150 | 25 | 25 | 450 | 100 | 100 | 300 |
| RHM9 | 225 | 25 | 25 | 550 | 100 | 150 | 500 |
| RHM12 | 300 | 25 | 25 | 700 | 100 | 250 | 650 |
| RHM16 | 400 | 40 | 40 | 800 | 150 | 350 | 1000 |
| RHM18 | 450 | 40 | 40 | 900 | 150 | 500 | 1300 |
DN2 is used for insertion of a thermometer pocket. A liquids is recommended on the distillate outlet of this reflux divider to prevent the vapour passing directly to the receiver
©
Copyright
2017. Shiva Scientific Glass Pvt. Ltd. Delhi, India